Book Review
1 NOVEMBER 2007
| ARTICLES
British Propaganda to France, 1940-1944:
Machinery, Method and Message
By Tim Brooks
Edinburgh University Press, 2007, ISBN: 978-0748625192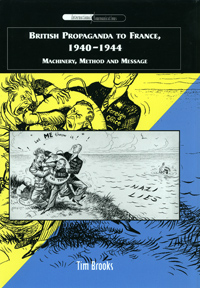 Most reference books dealing with British psychological warfare during the Second World War understandably tend to focus on propaganda aimed at the Axis. What is often overlooked is that Britain's PsyWar effort directed to the French was on par with that for Germany. As well as the many hours per week broadcast to France by the BBC, there were five separate French clandestine radio stations and around 800 different leaflets disseminated over the country by UK-based aircraft and balloons. Despite this huge propaganda campaign, little has been published in English documenting British propaganda directed to their temporarily conquered ally.
PsyWar Society member Tim Brooks rectifies this deficiency with his new book British Propaganda to France, 1940-1944: Machinery, Method and Message. His work is thoroughly researched using primarily source material from the British National Archives, Imperial War Museum, BBC archives and other important source material in both English and French and is written in a scholarly, readable style.
The book is divided into five chapters. The first chapter outlines the machinery of British psychological warfare, covering the inter-war period with the planning and formulation of propaganda departments and how the establishment evolved throughout the war from Electra House to Special Operations Executive and finally into the Political Warfare Executive. The chapter also looks at the oversight problems and the rival organisations in the field.
Chapter two is devoted to "Method", covering the dissemination of white leaflet propaganda and broadcasting. Chapter three is "Message" dealing with the content of white propaganda. This is followed with a chapter on reactions to psychological warfare and the final chapter, which is most interesting for myself, takes an in-depth look at black propaganda to France. Especially important for clandestine propaganda to France, Brooks evaluates the different shades of black propaganda in the French language and looks at printed propaganda, broadcasting and underground rumours.
The book is ideally suited to students of wartime propaganda but not so much for the leaflet collector looking for profuse illustrations of French-language leaflets. It does have a number of black and white illustrations but probably not enough to satisfy the thirst of collectors – it is just not sort of book. It is an excellent textbook. Due to Brooks' thorough research and precise writing, I believe this book is now the key reference for British psychological warfare to France in the Second World War.
Price: $80.00, hardback, 224 pages.
Lee Richards, (November 2007)