Book Review
Leaflets from the U.S. Armies for German Soldiers in Western Europe, 1944-1945
By Klaus Kirchner
Verlag D+C, 2007, ISBN: 3-921295-36-x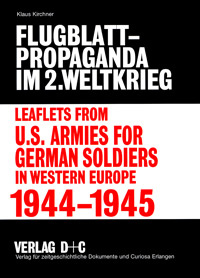 Dr. Klaus Kirchner has announced the availability of the newest book, volume 18, of the Flugblatt-Propaganda im 2. Weltkrieg series. His latest work covers tactical combat propaganda leaflets for frontline German troops produced by U.S. Armies from D-day until the end of the war in Western Europe.
For those not familiar with Dr. Kirchner's publications, for over three decades he has meticulously researched and produced definitive books cataloguing aerial propaganda leaflets aimed at, or produced by, Germany in both World War I and II. Each volume is colourfully and profusely illustrated. They are all hardbound in a large format and each runs to hundreds of pages. The leaflets are recorded in exacting detail including variations and non-disseminated leaflets. For the serious collector specialising in this area they are a must have, especially considering their very competitive price.
There have been two main drawbacks to Dr. Kirchner's books. Firstly due to the large size and weight, the postage cost to the rest of the world from Erlangen, Germany, often exceeds the price of the actual book. Secondly the editions until recently have, understandably, been exclusively in the German language which has possibly narrowed their appeal for those of us with limited language skills.
This drawback, however, has been addressed with volumes 16 to 18 which have a commentary in English. Further, in Volume 18 every leaflet illustrated is accompanied with an English translation. Generally the contemporary official, "stencilled" translation is reproduced but when these are not available, Dr. Kirchner provides his own. This is obviously a welcome development for English-speaking monoglot collectors like myself.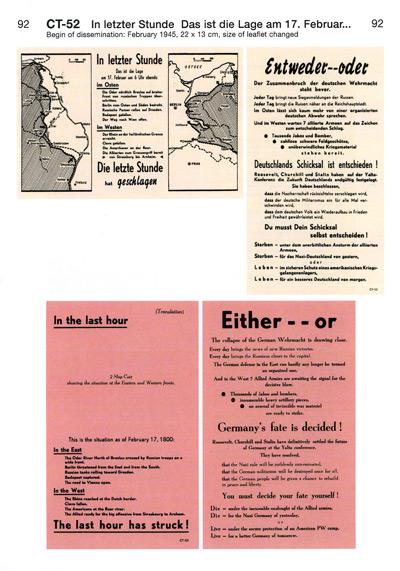 The U.S. Army in Western Europe had a number of Combat Propaganda Teams subordinated to the Psychological Warfare Division of SHAEF. Volume 18 looks at tactical leaflets designed and printed in the field by these U.S. Combat Propaganda Teams which were disseminated by artillery shell on pin-point targets along the German frontlines, as well as being dropped in T-3 leaflet bombs by the Tactical Air Force (TAF). It catalogues those leaflets produced by the U.S. First Army, (CT-series); Third Army, (PWB series); Seventh Army (7A series); and the Ninth Army, (CPH series). The CT series has previously been catalogued by Dr. Rod Oakland in the PsyWar Society publication, Blatter 23, Leaflets Disseminated by Artillery Shell. The other series have not been examined in this detail before.
Tactical leaflets were designed to take advantage of the immediate military situation to impede the fighting ability of the enemy by reducing soldiers' morale and encouraging surrender. Producing the leaflets in the field by mobile printing presses and firing them on exact enemy locations by artillery shell was advantageous. Based on good intelligence, leaflets were even addressed to particular enemy units or named commanders. The disadvantage of shell-fired leaflets was that they were often compressed and badly charred with a low number of leaflets landing on a small target area. The shells did not offer the same level of saturation that conventional aircraft dropped leaflets achieved. The damage caused by shell firing often puts off collectors from acquiring these leaflets with mint examples being rare and expensive. Other collectors are actually attracted by the diamond patterning and burnt edges that identify shell firing and consider it part of the unique history of the leaflet in question.
Dr. Kirchner's book is a key reference work for studying this area of the psychological warfare campaign in World War II and I highly recommend it. It will be expensive to post but well worth this minor inconvenience! I hope a forthcoming volume will cover in the same detail the leaflets produced by the British 21st Army Group.
The book is available directly from:
Dr. Klaus Kirchner
Luitpoldstraße 58, 91052 Erlangen, Germany
Tel. +49 (0)9131-41505
website: www.propaganda-leaflets.com
Price: 35.00€ / $43.00, 403 pages.
Lee Richards, (April 2007)