Book Review
Propaganda and Information Warfare in the Twenty-First Century:
Altered Images and deception operations
By Scot Macdonald
Routledge, 2007, ISBN: 0415771455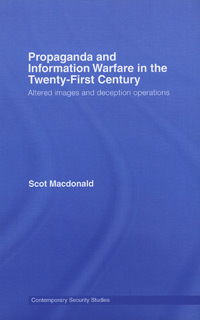 The old saying "the camera never lies" has always been far from the truth. As soon as photography was invented there soon followed the falsifying or manipulation of the photographic image. Famous historic examples include Sir Conan Doyle's fairies at the bottom of the garden and the staged pictures of the fabled Loch Ness monster. Perhaps these deceptions were fairly harmless and amusing. However, in wartime photographic forgeries are concocted for potentially much more sinister reasons. In the American Civil War photographic stills showing dead Confederate soldiers next to their rifles and motion pictures of British soldiers "going over the top" and advancing into no-mans' land in the First World War were staged for dramatic effect by journalists. When Governments forge images it is done for propaganda or deception purposes.
During the Second World War, the Soviets were skilled at photomontage and used many altered photographs in their propaganda to German troops. One of the more famous items of British black propaganda was a postcard illustrated with a retouched photograph of Hitler which when held to the light showed him masturbating. The German High Command worried about the affects of photomontage psychological warfare on the morale of their soldiers produced their own propaganda leaflet explaining to the Landser how photographs were altered in enemy propaganda. One example given shows an original photograph of a miserable German Prisoner of War. After the Soviets had finished with it, he was now smiling and looking happy in Russian captivity.
The Soviets did not only alter photographs to propagandise their enemies but also used the technique in the domestic political arena. When a former senior Soviet functionary fell out of favour with the current regime his image was permanently and literally air-brushed out of official images; just as disgraced Pharaohs' statues were disfigured and their hieroglyphs erased in ancient Egypt.
More recently faked photography has come to light. The Daily Mirror newspaper published set-up photographs of British soldiers torturing an Iraqi youth, the fall out from which resulted in the newspaper's editor being forced to resign. Several press photographs issued by news agencies during the 2006 Israeli-Lebanon conflict were also stage managed and/or retouched. A brand new and pristine soft toy was often neatly positioned in the foreground of Beirut bomb damage pictures. Another photograph of war-torn Beirut had the bomb damage extended and extra smoke added to make a more dramatic and saleable image. These images potentially influenced world opinion against Israeli military operations and encouraged support and sympathy for the Lebanese in general and Hezbollah in particular.
To turn now to the new book by Scot Macdonald, the Adjunct Professor at the School of International Relations, University of Southern California. In this book, published as part of the Routledge Contemporary Security Studies series, Macdonald analyses the history of image alteration and fakery. The book begins with a compact and informative history of both psychological operations and military deception techniques and looks at how imagery can be faked, manipulated and misrepresented to further these operations. For example, Macdonald shows by example how a miscaptioned photograph can alter its perception, how staged photographs can lie or how their meaning changed by not what they show but what the photographer chooses to miss out. The book also examines how the digital age means that altered images are now much easier to produce and to distribute, how terrorists use the internet to spread their visual propaganda and how western democracy is an easy target for the visual forger.
Propaganda and Information Warfare in the Twenty-First Century is a thought provoking and fascinating read for those new to the subject of psychological operations and deception. My one criticism is the lack of illustrations; when a book is discussing the impact of forged imagery it would be useful to see the image being discussed.
Price: $120, hardback, 204 pages.
Lee Richards