Extracts from War Diary of 14 Amplifier Unit & 19 Leaflet Unit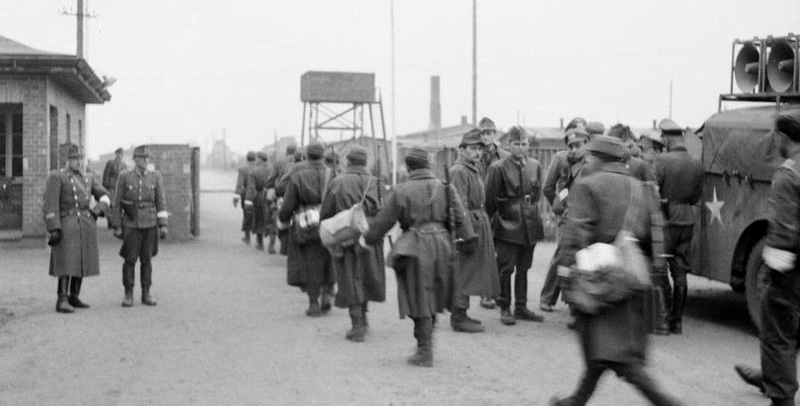 Monthly Report (in lieu of war diary) of 14 Amplifier Unit and 19 Leaflet Unit for month April 1945
15 leaflet shells, containing approximately 6,000 leaflets were fired into CELLE on April 11, at the request of GOC 15(S) Div. From 12-15 April the amplifier unit was placed under command of 159 Bde, 11 Armoured Division, for the advance from SCHWARMSTEDT to WINSEN-ON-ALLER. The fierce enemy resistance outside WINSEN, however rendered the use of broadcast propaganda impracticable.
At the request of Mil Gov (8 Corps) and OC 218 Mil. Gov. Det. the following amplifier announcements were made:- Forbidding civilians to enter 8 Corps HQ area without a permit; warning civilians against looting from Army dumps; forbidding civilians to use cars and bicycles on the roads; warning troops against looting from dumps established for civilians; instructing troops not to interfere with free circulation of civilians or outside the hours of curfew (all in GREVEN on the Ems on 2 April '45); announcement imposing a curfew in OSNABRUECK from 1700 hrs to 0800 hrs; announcement to DPs [Displaced Persons] instructing them to stay put in OSNABRUECK, so as not to interfere with military traffic; announcement instructing DPs to assemble in the LEDENHOR, OSNABRUECK on 5 April, to receive instructions (all on 4 April).
On 5 April following the last-named announcement, 3,000 DPs assembled in the Ledenhof, and on the request of CO 608 Mil. Gov. Det. the amplifier car was used to marshal them into nationality groups and to march them to the Winkelhaus Barracks, OSNABRUECK, where they were accommodated. On the same day the amplifier car was used to make the following announcements in OSNABRUECK: imposing a 24 hr curfew; warning that looters were liable to be shot at sight; instruction to German civilians to display their names and dates of birth on the front doors of their houses.
On 3 April '45, at the request of 1 Commando Brigade, a broadcast talk was delivered from the amplifier car in the outskirts of OSNABRUECK, to warn snipers to surrender. It is thought the area must have been already clear of snipers, since so far as is known, no further trouble was experienced from them in the area.
The 21 Army Group newspaper Mitteilungen was distributed as follows: LAER (700 copies); GREVEN (560 copies); WUNSDORF and NEUSTADT (1,000 copies); BASTHORST (500 copies); CELLE (3,000 copies); LUEBECK (4,000 copies); BELSEN CAMP (2,500 copies). Two thousand copies of 21 Army Group multilingual newssheet were handed to DPs on the roads and 2,500 copies in Belsen.
On 15 April at the request of GSO, 11 Armoured Division, 14 Amplifier Unit joined 23 Hussars and accompanied them into the "neutral zone" of Belsen Concentration Camp. The unit entered the camp at 1500 hrs, being the first British unit to do so and announced on the orders of GOC 8 Corps that, owing to the prevalence of injection (sic) disease, the inmates of the camp could not be immediately released, but that medical aid and food were being rushed up. (A copy of special report rendered to GSO(Ia) 8 Corps is attached to appendix [Appendix missing from war diary]). 14 Amplifier Unit remained in Belsen concentration camp from 15-29 April, carrying out the following main tasks: Interpreting for and assisting Lt.Col. Taylor, CO 63 ATK Regiment RA, the first British commandant of the camp in conversations with SS and Wehrmacht personnel; use of loud-speaker to restore order in the camp; organisation of inmates for first distribution of food in the camp; arrest of collaborators from among inmates of the camp; organisation of an interpreters pool from among inmates of the camp, the marshalling of the first 3,000 "healthy" women evacuated from the camp to the Panzer Training School (in cooperation with 250 Mil. Gov. Det.); allotting of evacuated people to new quarters, carried out by Sgt E. A. Clyne of 14 Amplifier Unit (in co-operation with 904 Mil. Gov. Det.)
Civilian interrogations were carried out during April, on the following subjects:- war-weariness in Westphalia; German listening into the BBC; German treatment of foreign workers; looting in OSNABRUECK; cinema and printing facilities in GREVEN and LENGERICH. Two anti-Nazi Germans, each of whom had spent several years in political prisons or in concentration camps, were interrogated.
Monthly Report (in lieu of war diary) of 14 Amplifier Unit and 19 Leaflet Unit for the month of May 1945
From 1-13 May 14 Amplifier Unit and 19 Leaflet Unit were held in reserve with 8 Corps, in LUEBECK. On 13 May at the request of Col. Spottiswode M.G., the units returned to BELSEN-CAMP.
Between 13 May and 31 May the units organised the following facilities at Belsen: A library of 400 books in Camp 3; adult classes in the English language (organised and run by Sgt H.H. Harrison of this unit). Assistance was given to officials of the British Red Cross in the organisation of an international concert of singing and dancing, given by the inmates of the camp in Belsen Camp No 3.
Amplifier announcements were made in Belsen Camp during the month.
About 2,000 copies of 21 Army Group multi-lingual news bulleting were affixed in Belsen Camps 3 and 4, and 1,000 copies of the paper "Mitteilungen".
Source: British National Archives, ref. WO 171/8142