Examples of Psychological Warfare in Limited and Cold War
This short overview of several psychological warfare operations conducted in the early Cold War period was submitted as an annex to a British Defence Coordination Committee (Far East) meeting to discuss the requirements of psychological warfare equipment for Cold and Limited War in the Far East. The paper was submitted in the autumn of 1958.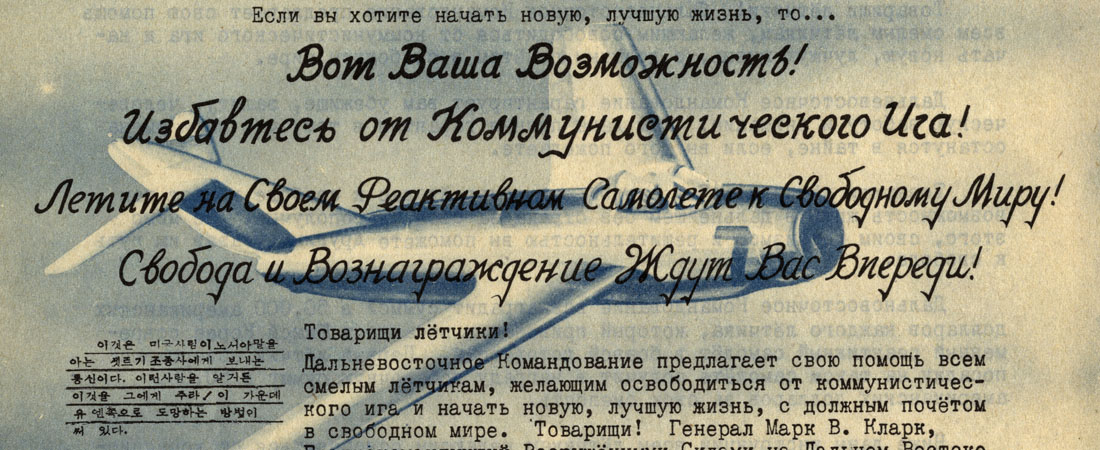 TOP SECRET
Annex B to
PWWP(58)2
EXAMPLES OF PSYCHOLOGICAL WARFARE
LIMITED WAR USE – KOREA
1. The psychological warfare efforts of both sides were considerable. Two very successful examples are analysed below.
Communist Germ Warfare Campaign
2. The Communist germ warfare campaign, launched on a world wide scale and maintained over a period of years, is a good and most successful example of the "big lie" technique. Despite the fact that such techniques are in general barred to the Western nations it is instructive to list its achievements:-
(a) The people of the United States, and of the smaller participating United Nations in particular, developed a guilt complex which was one of the factors which led to the acceptance of an armistice without victory.

(b) The blame for inadequate Communist health and sanitation services and for the inevitable epidemics which follow in the wake of war was placed on "the Americans".

(c) By renewing the campaign yearly one month ahead of the spring thaw the Communists provided an incentive for the essential spring clean up and insect eradication campaigns.

(d) The stage was set for the Communists to initiate either germ or gas warfare had they so wished.
The MIG Defection Campaign
3. An offer of $100,000 was made to the first Communist pilot to deliver a flyable Soviet jet plane. Although one object was to obtain such a plane for intelligence purposes, the offer was primarily a tactical psychological warfare attempt to inhibit the combat effectiveness of the enemy in the air. This it was hoped would be achieved by forcing him to screen his pilots and possibly reject some good ones for security reasons, as well as by worrying flight leaders with a close supervision of their fellow pilots.
4. The campaign ran for 90 days from 27th April until the armistice. For the first 8 days all Communist pilots were grounded. There after the Fifth Air Force shot down 13.6% of all MIG's encountered. This compared with 4.4% for the preceding 90 days and with 6.6% for the best average previously attained. General Barcus, the 5th Air Force Commander, split the credit 50-50 between psychological warfare and his Sabre jet pilots.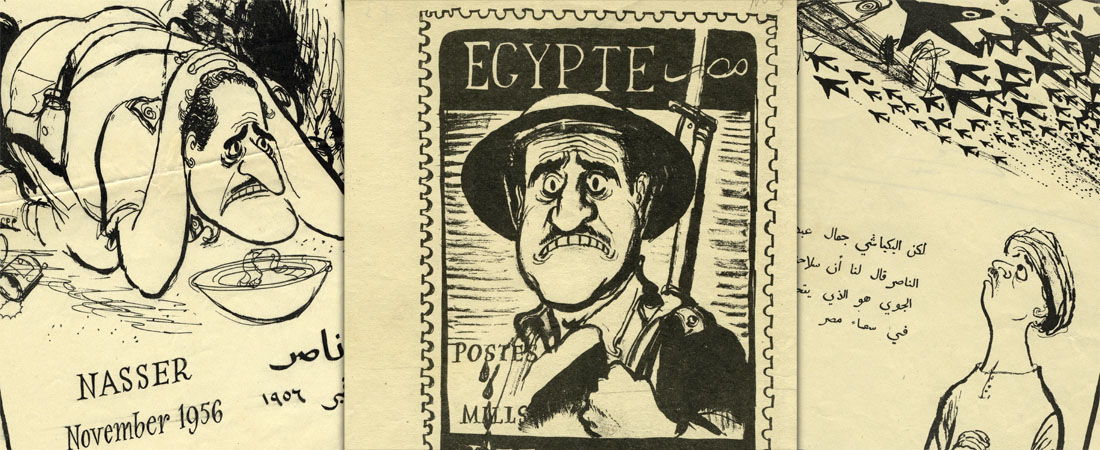 LIMITED WAR – SUEZ
5. A fairly considerable psychological warfare effort was planned in support of MUSKETEER. The objectives were:-
(a) Short term support during the 10-12 days of air operations by radio broadcast and leaflet dropping designed both to save civilian lives and to build up a listening audience.

(b) Long term support aimed at exacerbation of known frictions within the armed forces and between components and individuals thereof.

(c) Tactical support of the land campaign designed to subvert the armed forces and population.
For this campaign the disruption of Cairo Radio and the use of Sharq el Adna radio station in Cyprus were fundamental requirements.
6. In practice the psychological warfare operation did not go as planned, had no chance of succeeding and was in fact an almost total failure. Broadcast warnings of air attacks did however undoubtedly save Egyptian civilian lives. The reasons for failure were:-
(a) Time Factor. MUSKETEER was telescoped at the last minute so that five days were available before the assault instead of twelve. Cairo Radio was not bombed until D+2 and then so unsuccessfully that it was on the air again by D+6. Three days of unchallenged broadcasting was insufficient for the campaign to develop and be effective.

(b) Radio Trouble. The staff of Sharq el Adna, including the British manager, defected on D+1 so that for the two critical days only one Arabic speaker was available. Meanwhile the BBC, in pursuance of its famed policy of objectivity, continued to broadcast Egyptian news handouts.

(c) Equipment Trouble. Two voice aircraft were promised. A Pembroke arrived from Kenya with its voice equipment removed; this equipment when flown up from Aden arrived with half of it smashed beyond repair. This plane was called for urgently by the Corps Commander in an attempt to persuade the Port Said garrison to surrender immediately after the parachute assault, but the equipment was not ready and was never used. The second aircraft, an Auster, never materialised at all.
7. Brigadier Bernard Fergusson, who was in charge of this operation, reported his conviction that a psychological warfare campaign cannot be turned on like a tap in short term operations. Had there however been a highly technical propaganda campaign already in being anywhere in the Middle East, it would have been a comparatively easy matter to focus its impact and concentrate its effect on direct furtherance of military operations.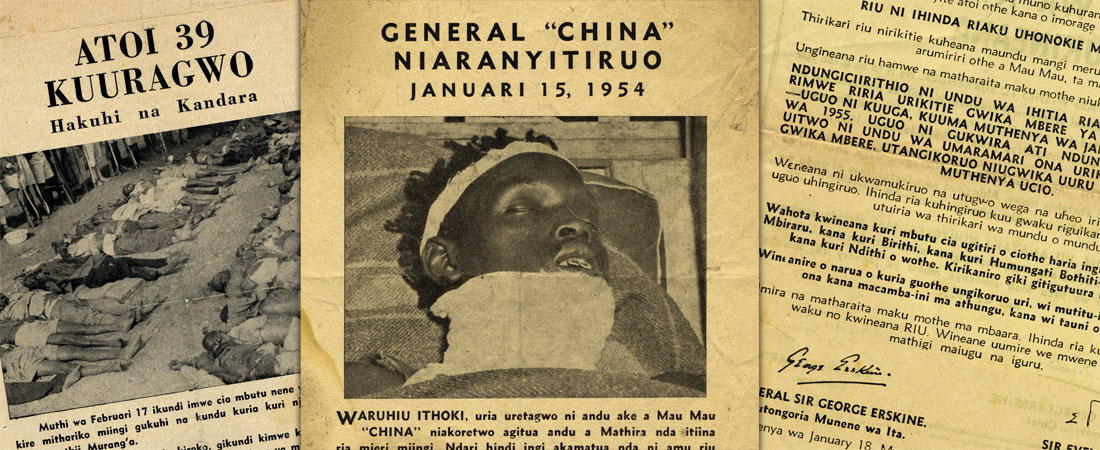 COLD WAR – KENYA
8. In the Kenya emergency no properly planned campaign of psychological warfare was carried out. About two years after the emergency started a special committee was set up to initiate and direct a propaganda campaign in support of the current surrender terms. During the period (some three months) of this campaign the total number of surrenders was 299, as compared with 182 for a similar period immediately prior to the campaign. As a result this committee was subsequently turned into a permanent Psychological Warfare Staff.
9. This staff, responsible to the War Council, was headed by a civilian Nairobi businessman Member of the Legislative Council assisted by representatives of the Ministry of African Affairs and of the Director of Intelligence and Security. Army representation was from the Intelligence branch of GHQ. It is however now generally agreed that psychological warfare is a function of Operations rather than Intelligence in so far as the services are concerned.
10. The report on these matters stresses that it is essential that a psychological warfare staff should be small and knowledgeable, with power to consult all branches of the community, and with executive authority derived from the highest level to whom it is responsible.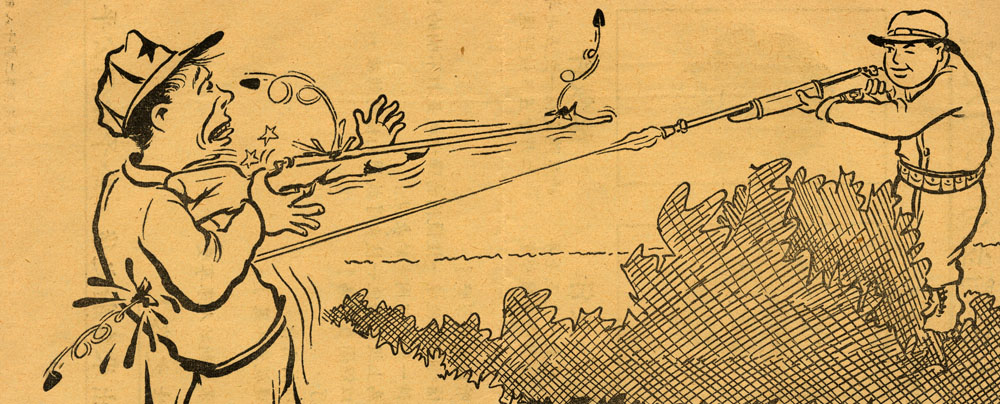 COLD WAR – MALAYA
11. Psychological warfare plays an increasingly important part in the emergency operations in Malaya. Assuming that most surrenders are at least partly attributable to psychological warfare its importance is stressed by the 1957 figures of 194 surrenders compared with 227 kills and 32 captured. The build up of effort can be seen from the following statistics:-
Year

Voice Aircraft

Leaflets Dropped

Requests Flown

Hours Broadcast

Tactical Leaflets

Strategic Leaflets

1953

960

390

21,476,000

43,004,000

1954

817

596

27,905,000

44,046,000

1955

2111

906

31,344,000

108,026,500

1956

2246

766

30,825,000

69,332,000

1957

1801

706

56,525,000

59,336,700
Organisation
12. The Psychological Warfare Section is under the command of the Director of Operations and operates as directed by his staff, of which the Head of the Section (a Chinese civil servant) is a member. The Section is however a part of the establishment of, and is administered by, the Federation Ministry of Defence.
13. The Section is organised as follows:-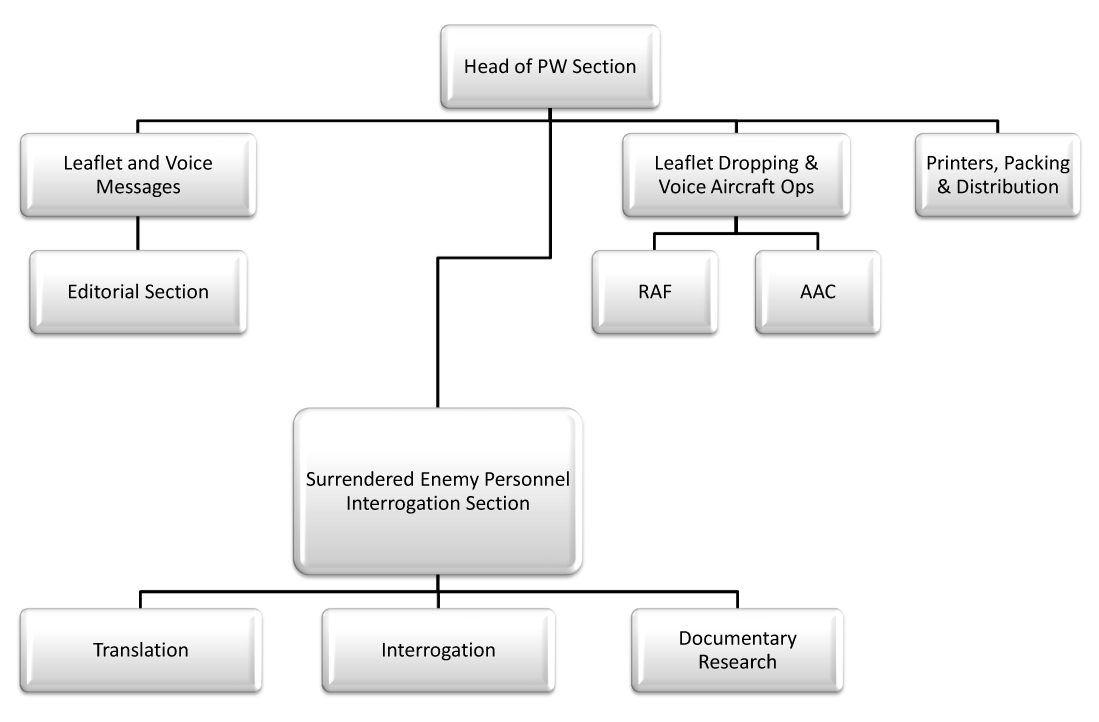 It is interesting to note that one of the principle interrogators is Lam Swee, formerly Regional Political Commissioner, 4th Regiment MRLA, a member of the MCP South Johore Regional Committee and earlier Secretary-General Pan-Malayan Federation of Trade Unions.
Strategic Operations
14. An example of strategic operation is GREENLAND TWO a leaflet distribution campaign mounted on and after 17th December 1957 to publicise the extension of the Merdeka surrender terms. Between 17th and 20th December some 13.5 million leaflets in Chinese were distributed in all States of the Federation. By 31st December distribution was:-
| | | | | | |
| --- | --- | --- | --- | --- | --- |
| Distributed by | Chinese | Malay | Tamil | English | Total |
| RAF Supply Force | 7,457,500 | 300,000 | 95,000 | - | 7,852,500 |
| Army Air Corps | 5,260,000 | 10,000 | 10,000 | - | 5,280,000 |
| Information Services | 335,500 | 104,500 | 58,000 | 5,200 | 503,200 |
| Security Forces | 100,000 | - | - | - | 100,000 |
Tactical Operations
15. Tactical operations consist of the immediate exploitation of eliminations whether killed, captured or surrendered with the object of obtaining surrenders from the remainder of the CT group. Speed is all important and it is noteworthy that of the 22 eliminations achieved in December 1957, 19 were exploited by either voice aircraft or leaflet and usually both, while 8 of these were actually exploited on the same day and a further 7 on the next day. The efficiency now achieved is a measure of the cooperation of the services and of their appreciation of the importance of psychological warfare operations in dealing with communist insurgency.

[Source: TNA DEFE 28/12 supplied via a FOI Act request, transcribed by www.psywar.org]