Radio Atlantico del Sur
Summary of Programme No. 2, 20 May 1982
27 NOVEMBER 2015
| ARCHIVE
Radio Atlantico del Sur was a Spanish language radio station operated by the UK Ministry of Defence as part of its psychological operations campaign conducted for Operation Corporate – the recapture of the Falkland Islands following the Argentine invasion in April 1982. The radio station, known as 'Project Moonshine' within the Ministry of Defence, was operated by a specially created group called the Media Assessment Team (MAT). The station broadcast from studios in Mayfair, London, via a requisitioned BBC transmitter on Ascension Island. Its first broadcast was on the evening of 19 May 1982 and continued for 47 broadcasts until 15 June.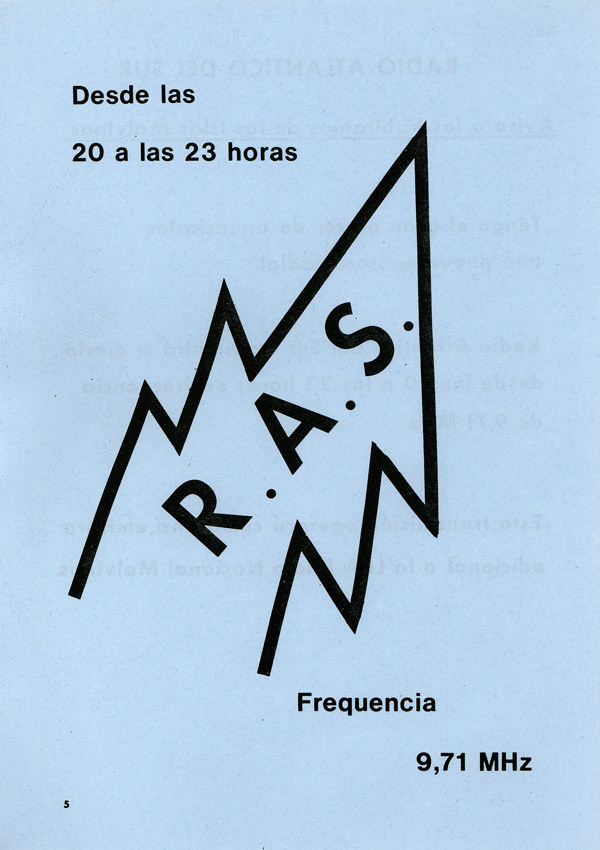 RADIO ATLANTICO DEL SUR
SUMMARY OF PROGRAMME NO 2 – 20 MAY 1982
1. News: This reflected primarily the Government White Paper and news from House of Commons. Also included were UN attempts to finding a peaceful solution, the helicopter crash in Chile and an unconfirmed report of a Harrier attack on the Falklands. In addition mention was made of New Zealand and Australian support offered to UK and lastly on Economics there was a feature on the Argentinian Economy. All news was collated from available public sources and the sources quoted. Throughout the evening the main news feature was the House of Commons Debate on the White Paper, which was also included as a special feature.
2. Separate Items:
a. Detention of Falklands VIPs: A feature was done on the detention of prominent Falkland residents based on reports from Daily Mail and Times.

b. "The Military Situation". This is a regular feature of the programme and dealt with the effectiveness of Harriers. It was based entirely on comment obtained from reputable Latin American Press sources, including the Chilean magazine Ercilla.
3. Popular Features: A comprehensive programme of popular music was included throughout the programme which included Argentinian examples of folklore type music.
4. Sentimental Interlude: Mariana Flores our resident Lady announcer dedicated a number of songs and poems to soldiers on the Falklands. Mention was also made to separated families.* Sentimental Interlude is a permanent feature of the Station's programmes.
5. Jamming. US Monitoring Service have confirmed that Argentine attempts to jam were made. However it was easily overridden by the British transmitter.
* Though it was not suggested that this was being done at the request of anyone in Argentina.

[Source: TNA FCO 26/2449, transcribed by www.psywar.org]