Radio Atlantico del Sur
Summary of Programme Nos. 39/40 – 11/12 June 82
24 SEPTEMBER 2017
| ARCHIVE
Radio Atlantico del Sur was a Spanish language radio station operated by the UK Ministry of Defence as part of its psychological operations campaign conducted for Operation Corporate – the recapture of the Falkland Islands following the Argentine invasion in April 1982. The radio station, known as 'Project Moonshine' within the Ministry of Defence, was operated by a specially created group called the Media Assessment Team (MAT). The station broadcast from studios in Mayfair, London, via a requisitioned BBC transmitter on Ascension Island. Its first broadcast was on the evening of 19 May 1982 and continued for 47 broadcasts until 15 June.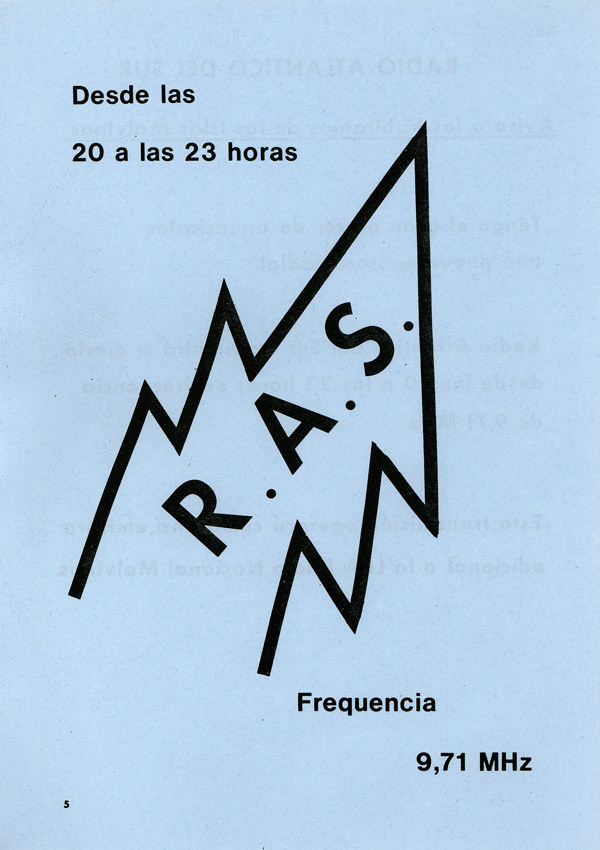 RADIO ATLANTICO DEL SUR
Summary of Programmes 39/40 – 11/12 Jun 82
News
1. The main items included in both broadcasts were:
a. MOD statement about consolidation of British positions round Port Stanley and patrol successes.

b. Prime Minister's denial that Argentina's unconditional surrender was the only acceptable aim.

c. Report of conversation by Brig Menendez with the mainland.

d. Confirmation of the Norland's planned arrival at Montevideo on 12 June.

e. France's decision to drop its case against Lt Cdr Astiz.

f. The Pope's arrival in Argentina.

g. President Reagan's visit to West Germany.

h. Weather.
Features
2. The principal features were:
a. Political situation.

b. The full transcript of the BBC report on Gen Menendez telephone conversation concerning the low morale of his troops.

c. A feature explaining the protection afforded to civilians under the Geneva Convention and the responsibilities of the occupying troops.

d. An article on the Argentine economy (following on from that of the previous day and based on information from "CLARIN").

e. A feature about the Pope's visit to Argentina which stressed coverage in foreign press and the Pontiff's call for peace.

f. The appeal by Mr Nott to the Argentine authorities to free the Falkland islanders and the suggestion that the ICRC should be allowed to negotiate this.

g. News from Buenos Aires.

h. Sports round up.
Reception/Feedback
3. Monitoring reports from Asuncion in Paraguay continue to confirm the same pattern of reception and jamming already reported.

[Source: TNA DEFE 25/502, transcribed by www.psywar.org]