Radio Atlantico del Sur
Summary of Programme Nos. 41/42, 12/13 June 1982
24 SEPTEMBER 2017
| ARCHIVE
Radio Atlantico del Sur was a Spanish language radio station operated by the UK Ministry of Defence as part of its psychological operations campaign conducted for Operation Corporate – the recapture of the Falkland Islands following the Argentine invasion in April 1982. The radio station, known as 'Project Moonshine' within the Ministry of Defence, was operated by a specially created group called the Media Assessment Team (MAT). The station broadcast from studios in Mayfair, London, via a requisitioned BBC transmitter on Ascension Island. Its first broadcast was on the evening of 19 May 1982 and continued for 47 broadcasts until 15 June.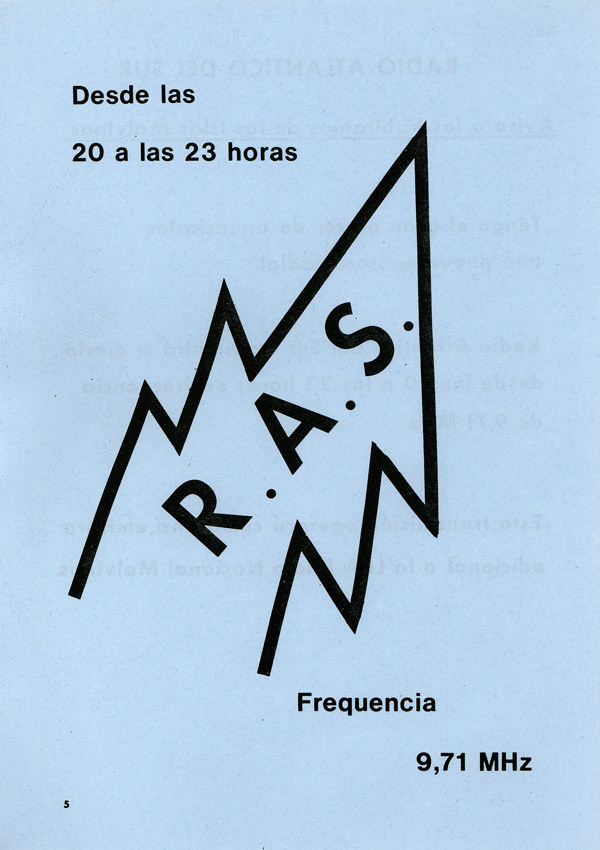 RADIO ATLANTICO DEL SUR
Summary of Programmes 41/42 – 12/13 June 1982
News
1. The following stories were covered:
a. The further British advance towards Port Stanley

b. Statement by Cecil Parkinson emphasing (sic) British resolve

c. The continued detention of the only British POW

d. The Trooping of the Colour

e. Cease-fire in the Lebanon

f. Defection of 3 Poles to West Berlin

g. Return of General Ojukwa to Nigeria

h. Devaluation of the French Franc

j. Expulsion of Iranian diplomatic staff from the Sudan

k. Weather
Features
2. The principal features were:
a. The Military Situation (based on an article in the times by Leslie Dowd)

b. A list of prisoners (on the NORLAND)

c. Interview of President Galtieri taken from the Times

d. A feature following on from yesterday about the responsibilities of occupying forces for civilians and children under the Geneva convention

e. News from Buenos Aires

f. The Pope's progress in Argentina as reported by foreign press

g. World Cup roundup
Reception/Feedback
3. Signal strength and jamming continue at their previously reported levels.

[Source: TNA DEFE 25/502, transcribed by www.psywar.org]