Report on the Organisation of Field Propaganda by George L Steer
6 OCTOBER 2015
| ARTICLES
Following his highly-regarded direction of forward psychological warfare in Ethiopia in 1940-1941, George Steer authored this report giving his personal opinion on how further Army field propaganda units should be organised in the North Africa campaign. Within a year the 1st Army Field Propaganda Company was established on broadly similar principles as outlined here. Steer would later form the Indian Field Broadcasting Units under the direction of the Special Operations Executive. Tragically Steer was killed in a vehicle accident in Burma on Christmas Day 1944.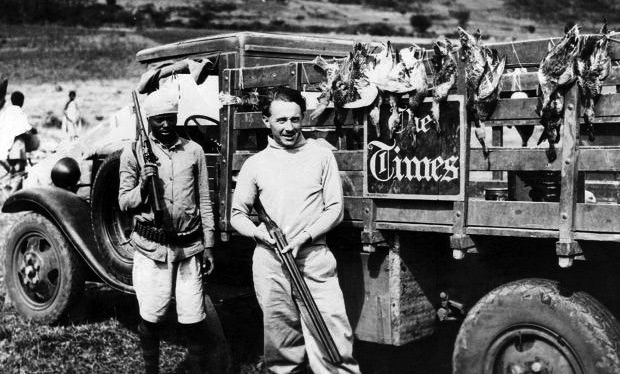 REFORM OF BRITISH WARTIME PROPAGANDA (ORGANISATION)
A year of propaganda, in office and the field, has taught me the following principles:
(1) It is essential to maintain in war two main organisations one at the rear, providing radio and pamphlet programmes and directives; the other forward in control of field units, running local pamphlet production, loudspeaking and whispering campaigns, subordinate to the first but with a large degree of local autonomy;

(2) It is essential to keep a very close eye on, and friendly relations with, the RAF, which detests pamphlet dropping and if it puts them in the planes at all, often, if not interested, drops them in the wrong place. The RAF is still convinced that pamphlets are as useless as they were when thrown in Germany in the Polish campaign of 1939. Only a policy of intensive relations will deconvince them;

(3) It is essential that the closest possible contact should be maintained by the advanced propaganda units with local Military Intelligence, all prisoners of war and deserters should be interrogated without exception, all documents perused, and the enemy's positions and terrain studied;

(4) It is essential that propaganda officers and troops should have complete military status and should always be in uniform; by this means only discipline can be maintained and the maximum of respect and hearing be got from the RAF and the Army.

(5) It is essential to maintain at all times a very close liaison with the organisation G(R) as propaganda and irregular military action will have to cooperate closely in all countries such as Ethiopia and most European countries occupied by Germany, where a division of feeling between occupier and occupied can be counted upon.
On these grounds I propose the following reorganisation of propaganda in Middle East:
(1) Concentration in the hands of one man at Middle East of all propaganda, overt or covert, military or non-military, no matter at whom it is directed;

(2) Under this member of the C-in-C's staff, Middle East propaganda to be divided into the following sections:

(a) Broadcasting, pamphleteering, whispering and covert propaganda for enemy-occupied territory and neutral territory.

(b) Broadcasting, pamphleteering, whispering and covert propaganda for subject or allied populations.

(c) The present office of Publicity and Propaganda for propaganda among our own troops and population.

(d) Conversion and education of POW's and enemy civil population - e.g. in Italian East Africa; combined with newspaper production.

(e) Cooperation with the Army and the RAF in forward areas by a special Army Propaganda Corps integrated into Corps or Division, and Brigade; this Army Propaganda Corps to take its final directives from a Commanding Officer attached to (a).

(3) (a) (b) and (d) follow long-term programmes to be approved by (1); (c) is a day-to-day affair comparable with war journalism, and is already well done (as is (d)); (e) however, except in a crude way in the Ethiopian campaign, has not yet been given an opening.
I will therefore develop the lessons of that campaign, adding that:
(1) Field Propaganda has little value except in offensive operations, in which we were continually involved from January 19, 1941;

(2) We were lucky in having a unified organisation and there were none of the unavoidable jealousies and doubts about individual responsibility that I saw recently in the Syrian campaign;

(3) We were lucky in having an assured military status as part of the Kaid's staff, and in thus avoiding the following flaws which I saw in the conduct of propaganda in the Syrian campaign:-

(a) the loudspeakers got lost and were not used because there was no forward propaganda organisation to receive them;

(b) though the phenomenal figure of 2,500,000 pamphlets was printed for the first day of the Syrian offensive, only 1 of these was seen or heard of by either side between the Palestine frontier and Sidon, in more than a week of fighting; this because of inadequate control of RAF activities due to lack of liaison and forward organisation; incidentally, this fact was not known to propaganda in Palestine until I reported it, because of lack of forward organisation;

(c) there was no real study in the fighting zone of POW and deserter mentality; this once more because of lack of forward organisation. Similarly valuable Vichy documents were missed. The tendency was to expect all these facts to be sifted for propaganda and sent to the rear, whereas with our Army this never happens;

(d) inadequacy of propaganda status at Force HQ, due to the wearing of mufti, non-unification with of functions, and lack of personal relationship with Army chiefs.
In this way an extremely capable propaganda personnel was being wasted.
FIELD PROPAGANDA
1. The war in Eritrea and Ethiopia has shown the value of airborne propaganda and news (particularly in the retreat from Kassala to Keren and Asmara, when it was used in close cooperation with the Army), of field units in the villages around the enemy and in battle with him (Burye and Debra Markos), and of battle broadcasts (Keren).
2. This might be attested on a larger scale and with more elaborate preparation in the event of landings in Europe, where we can assume as in Abyssinia a certain measure of support from the population, and also in a lesser degree in offensives such as those which may follow in Libya, where it is possible to exploit racial differences, discomforts or defeats.
3. The basis of organisation should be complete organisation with the Army and the Air. A special Propaganda Officer should be attached to every Corps (or Divisional) Staff with control over the elements described below and with access to all Intelligence material. He should be again dependent on Army Propaganda Officers.
4. Material:
(a) A printing press supplied with suitable type for the country of the campaign, with German and English type, should be attached to Corps (or Division) in a light truck.

(b) A W/T set with a radius of about 50 miles contacting territory behind the Corps (or Divisional) front to the distance of one day's motorised rush should also be attached to Corps (or Division) for propaganda purposes only, with 2 light trucks.

(c) One light loudspeaker unit should be attached to each Brigade, carried in Bren carriers or other suitable armoured material, and if possible run off the Armoured Fighting Vehicle engine, protected by a Bren gun and supported by a small trailer for the amplifier material.

(d) About 6 small W/R sets and 6 typewriter-duplicators should be supplied for forward agents dropped by parachute or infiltrated; these also to be dependent directly on the Propaganda Officer with Corps (or Division).

(e) Wireless and printing press repair unit at Corps.
5. Personnel:
(a) One trained compositor and proof-reader in the language of the invaded country, one trained compositor in German and English, one printer, one driver.

(b) Two W/T operators (British), one trained announcer in the language of the invaded country and one in German, two drivers.

(c) Two speakers in the language of the invaded country and two in German (or Italian) for each Division; two broadcast unit operators (British) for each Brigade, one of whom is driver of the carrier or AFV.

(d) About 6 forward agents, nationals of the invaded country, who are invested with full political powers by the exiled or insurgent Government of that country. These dependent on Divisional (or Corps) Propaganda Officer.

(e) Repair personnel, numbers and types to be found by experiment.
6. Prerequisites: (a) Intelligence; (b) Choice of Material; (c) Choice of Personnel; (d) Training.
(a) Intelligence:
A survey should be prepared at once of the Balkans, Turkey, Italy, France, Spain and Italian, French and Spanish North African possessions with a view to register:
(1) printing presses, political tendencies of their proprietors and personnel; (2) municipal authorities, police and other personalities for local contact by 5(d); (3) wireless transmitters known to have been in the hands of former Governments or amateurs, incidence per area and prevailing types of wireless sets, prevailing political complexion of listeners; (4) incidence of literacy and appeal value of certain types of literature in different areas; (5) disposition and morale of enemy garrisons.

This of course takes no account of immediate MI at the moment of the offensive; here the Corps (or Divisional) Propaganda Officer should have access not only to all I reports but should also be able to interrogate all persons for Propaganda information.
(b) Material: all material should be as light as possible, within the following limits of need:
(1) the Corps or Divisional Press should be able to print pamphlets news and orders up to 600 words (300 on each side of a page) and should be capable of work in the native, English and German languages. This means that the type must be handset, but the copy should be machine-printed for speed in production for air-dropping and land-patrols.

All spare space therefore should be given to machine-printing, none should be wasted on lino or other fancy compositing devices.

(2) W/T should have a range of 50 miles and should be suited to the sets in use in the area attacked.

(3) Broadcast units with the Brigades should have the range of a mile or more, should have loudspeakers that lie level on the ground, should have 300 yards of wire between engine and loudspeakers, should have great mobility.

(4) Typewriter-duplicators and W/R sets should be dropped in containers with the parachutists, and should be attachable to the parachutists later.
(c) and (d) Personnel should be chosen in Middle East and training should take place in Egypt, Palestine and Abyssinia so as to train all units to three varieties of terrain.
The chronological development of this scheme should be:
(a) immediate intelligence survey outlined in (5) (a) (1) to be made in Middle East;

(b) preliminary rough training with W/T sets and broadcast units attached experimentally to one Division, in the field in Libya, Syria or Russia;

(c) visit to England to devise suitable field material, visit to America to devise suitable wireless material;

(d) enlargement of intelligence survey in Great Britain;

(e) return to Middle East for selection of staff (candidates for which could meanwhile have received preliminary training with Royal Corps of Signals and a printing company) and for final training.
The whole should be ready to operate by Spring 1942.
7. On this organisation there is the following note to be made. The field propaganda service tackles two objectives: one is the morale of the enemy, whether he is German, Italian, or conscripted from the country invaded by us; the other is the public feeling of the country invaded by us and the civilian population of that country, which by the time of our invasion will have been attuned to our objectives and made ready to support us by the propaganda of the organ 2(a) whose functions are described on page 1 of this memorandum.
Pamphlets and W/T will be used to attack both objectives; the loud-speakers will be used in the initial phases of the attack, before and just after breakthrough, to attack the enemy; the agents will be used to deal with the civilian population of the invaded country alone.
All arms will be inter-supporting - e.g. all pamphlets will advertise as a matter of routine the hours and wavelengths of our field or other broadcasts; broadcasts by loudspeaker or W/T will give the recognition signs for our pamphlets; agents will duplicate our wireless news.
8. Functions of Field Propaganda Units:
(a) Field Press:
(1) this prints pamphlets for Army cooperation aircraft (a) for dropping on the enemy (b) for civilian population of the invaded country, to whom it also issues orders - e.g. to accept as temporary government authority with absolute powers agent 'x' who carries the papers of the Provisional Government, to order certain age-classes to mobilise at certain points, to destroy petrol dumps, choose their own leaders in given areas for guerrilla activities, etc.

(2) prints public order of the command in already occupied territory where no press is available.

(3) prints news-sheet for own Corps in English.
(b) W/T
(1) speaks to field sets in hands of enemy Signals, providing the same corpus of news as is given by the Field Press and the Broadcast Units (see below) but fuller and more up-to-date.

(2) is the main agent for conveying up-to-date news of the progress of the operation to the civilian population of the invaded country, for raising their morale by patriotic and anti- German appeal - 'this is your last chance to get rid of the Germans ... you have nothing to lose' etc., and for giving orders to population in the name of Provisional Government.
(c) Broadcast Units
(1) at night (unlike pamphlets) and before a breakthrough by our troops, give a regular news programme to the enemy troops who have no W/R, programme based for German garrisons on news of terroristic kind with particular reference to operations by our agents and civilian population in their rear which need not be accurate, and based for Italian garrisons on same formulae mingled with persuasion and anti-German propaganda.

(2) during and immediately after breakthrough by our troops, exploitation as rapidly as possible of the news all along the front - 'you are turned... you are in danger of being cut off ... your communications are cut at x and y ... your MT park has been destroyed' etc. To this can be coupled a scheme of bogus enemy orders - e.g. a German speaker could pretend that he has captured a Broadcast Unit from us and that he was issuing orders from the German Command.

(3) in mopping up operations after breakthrough Broadcast units can be used to keep local population under control and to use the population to help in the mopping up, as it will be found that a large proportion have no wireless sets.

(4) Broadcast Unit then reverts to original role of (1), returning to Brigade once contact re-established with enemy on next line.
(d) Forward Agents :
(1) these issue orders of the exiled, insurgent or provisional government, whose objects should be to facilitate the work of G(R) in a mass mobilisation of the population for temporary military work - their whole basis should be AUTHORITY, NOT PERSUASION.

(2) to that end, to occupy the available presses and wireless stations in the invaded country, and to conscript personnel temporarily to operate them.

(3) act as link between population and G(R) in every activity of the latter, and to be nominal (i.e. in the eyes of the population) heads of all G(R) units.
The emphasis on AUTHORITY rather than PERSUASION in the activities of forward agents, and also in the tone of W/T and pamphlet programmes, should be noted. PERSUASION will presumably have been used in the preparatory propaganda before an invasion of the continent, by London and Middle East wireless and pamphlet programmes. We must take a leaf from the German book during the actual invasion, and rush people off their feet by confidence-trickery on a grand scale. We will be able to assume (particularly in countries like Greece) a sub-conscious desire of all to help us and to recover national liberty, and a readiness for self-sacrifice if the proper stimulus is applied. On the other hand, the population will also be depressed and morally slack because of defeat in war and the material results of German or Italian occupation (restrictions on food, self-expression, movement, etc.). These people will be much more likely to help us if they are awakened with a jerk and given curt orders, than if they are allowed by us to think it over.
Naturally part of the preparatory propaganda from London and Middle East will be our invincibility, superlative efficiency, readiness for offensive action, etc.
It is this use of AUTHORITY that connects the role of Propaganda with that of Operations; in other words, with G(R). As Propaganda agents will act as the link between the population and G(R), it is possible to suggest the work in which they would aid G(R).
9. Cooperation of Propaganda and G(R):
The object of all our efforts must be to concentrate all our available forces, moral as well as material, on the Corps front so as to make certain of a breakthrough; and the cooperation of all weapons, propaganda being for the time subservient to certain tactical designs.
Before invasion of enemy occupied territory begins, G(R) will presumably have got under its control and trained for parachute-jumping, infiltration, sabotage, etc., all available nationals of the territory invaded. These formations should be responsible to Propaganda for their relations with the civilian population.
The value of the civilian population to us is not only that it is hostile to the enemy but that it knows, if not his order of battle, where his command, his petrol dumps, MT parks, AFV concentrations, telephonic communications and aircraft are situated. It is a question for us not, as in previous wars, to wait for the civilian population to come to us with this information, but for us to go in mass to them for it; and then to mobilise them to do their utmost against these enemy organisations.
The objectives of G(R) formations acting in cooperation with Propaganda should be, with their own power and the support of the population, to
(a) destroy or capture the enemy command;

(b) destroy enemy fuel dumps along the line of enemy retreat or reinforcement;

(c) hampering enemy AFV movement by mines and A/Ts;

(d) destruction of enemy aircraft on aerodromes.

(e) destroy telephonic communications;

(f) create local guerrilla forces to demoralise enemy troops and disperse enemy reserves.
Of these, (a) and (b) are by far the most important, for by (a) we destroy the brains of the enemy and the cohesion of his forces and by (b) we paralyse his army, if we destroy his fuel over a wide enough area to prevent the withdrawal of his material.
N.B. a large part of his fuel supplies will remain in the civilian pump system of the country, and these will in any case be the most important first objectives for a policy of destruction, as the persons in charge of them will almost certainly be informed on the position of the larger dumps. If destruction of forward fuel supplies is successful, the enemy will react by sending forward fuel and MT reserves by road and rail; further back therefore in the enemy system G(R), using through Propaganda the civilian population and arming them with mines and A/T weapons, will have to check this movement (c).
By these means, supporting our superior material in the line, the first enemy forces are turned into a rabble without leadership, without material, and without MT for a retreat.
They must retreat by foot through a hostile country. At this moment it is the job of wireless and printed propaganda to enlighten the population on their defeat, and by broadcast ORDERS to set (f), the guerrilla forces of the population organised according to a plan laid down by G(R), in action against them. Until this moment it would be foolish to set any guerrilla force in motion against enemy personnel except leadership, but there is no reason why Propaganda should not already have told the population something of the form that this guerrilla force should take before it is set in motion.
Surviving members of (a), (b), and (c) formations should return to their Corps Units after the enemy has been broken up in the Corps area and the Corps has occupied. The leaders of (f) however arming themselves more and more from the enemy rabble and using all available civilian and other MT for which they will possess requisition orders from their provisional governments, must press on further into enemy occupied territory adding to their number from the youth of the country. (a), (b), and (c) formations, if necessary reinforced, can then be dropped once more with their Propaganda liaisons to support the next step of the armed forces, whose work should be simplified by the increasing demoralisation of the enemy.
The principles of these proposals are concentration and cooperation of all forces under regular military control within a limited area, rather than dispersal of these forces in widespread sabotage of a type unlikely to affect immediately the fighting front, and a vague propaganda about national liberation. The main idea is to spreadeagle the enemy's forces at our principal point of contact with him and give him the maximum of work to do at the moment of contact. The individual enemy soldier should be made to feel isolated, helpless and the object of hate. It should be possible to do this with the maximum of success in Greece, Yugoslavia, Holland, Norway and if need be Spain and Turkey; with less success in France, Belgium and Denmark; and probably with least success in Italy, however servile her situation becomes.
KHARTOUM, 5.7.41
(Sgd.) G. L. STEER
Captain
[Source: TNA FO 898/309, transcribed by www.psywar.org]