Workers' Challenge radio broadcast, 23 August 1940
23 AUGUST 2014
| ARTICLES
Workers' Challenge was a clandestine radio station broadcasting to Britain throughout the Second World War. It purported to be run by a group of socialist British workers disaffected by the way the capitalist bosses and establishment were directing the war. The radio station called for a working class revolt through national strikes and disobedience in order to seek peace with Germany.
In actual fact Workers' Challenge was operated by Büro Concordia an organisation directed by the German Foreign Office and Goebbels' Propaganda Ministry. For much of the war the Concordia studios were based in the below ground levels of the Third Reich's 1936 Olympics sports stadium in Berlin. The Concordia speakers and script writers were a motley cohort of British fascists and misfits who had, either by deliberation or by misfortune, found themselves living in Germany at the start of the war. Their numbers also included a small group of easily-coerced prisoners of war.
Here is an early broadcast of Workers' Challenge from 23 August 1940. It makes the accusation that while the workers are suffering the privations of war due to food, clothes and fuel rationing, the war leaders and capitalist bosses want for nothing. This same theme would be fired back in British clandestine radio broadcasting to Germany. The radio station Gustav Siegfried Eins constantly jibbed at the Nazi Party 'Bonzen' who enjoyed special 'diplomatic' rations, war-profiteered and made sure they were safe from Allied bombing in their country estates.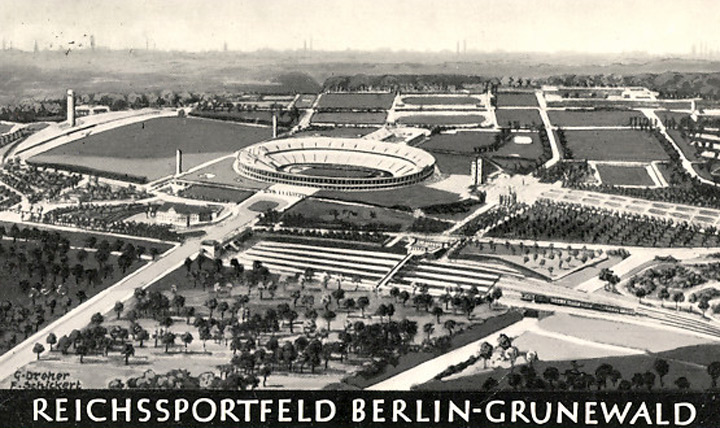 Workers' Challenge - Workers' Challenge calling all workers of Britain and Northern Ireland on a wave length of 213 metres every night at ten past eight and ten past nine. This is Workers' Challenge calling...

Workers' Challenge against hunger and war. Churchill means hunger and war.

Well, workers, we are doing nicely, aren't we? Seven hundred German aircraft were brought down by us in the last week, and our AA defences are so strong now that no German bomber can reach our coast! What brought you down to your air raid shelters today, yesterday and the day before, was just a blinking thunderstorm, I suppose? And what they dropped on our factories and aerodromes was just a lot of fire crackers. Gloriously and successfully we retreated from British Somaliland and to put the tin hat on it and to make us feel quite at home, Jerry has announced a total blockade closing the last door that was left open for us to receive raw materials from our American cousins. Now, we are in the soup. Grub is becoming shorter and so is tobacco - for us workers, of course. The bleeding bosses won't be put out over it.

But, wait a minute, to make you understand what the workers are thinking of this new situation, we broadcast another dialogue to you. It's Nobby and Jim, and here's Jim, standing before his working place and waiting for Nobby:-

I wonder where Nobby's got to? Blimey, he promised to meet me here. It's already 15 minutes since the hooter sounded.

Where've you been all this time?

Sorry mate, I've just been handing my last week's library books back. It made me a bit late.

What were they like? Any good?

Well, they weren't so bad and even more interesting than I thought they'd be.

Interesting, ah? What do you mean?

Well, just seemed to fit our present situation.

Cor blimey, don't remind me of that. I think it's in a hell of a state.

Yes, I'm afraid you're right there, old cock.

And the worst of it is, we can't do anything about it.

That's what you think. Don't you believe it! Of course we can. We're too bleeding slow.

It's no use talking like that, old man. We can't do a single thing about it. The bosses have got all the power to keep us down. Besides the coppers and the soldiers are on their side, so they pay them better.

Well, better pay wouldn't help them much if they couldn't buy anything with it.

I don't quite get you there, old cock.

Well, listen. I told you the books I've been reading were quite interesting. One of them contained a nice little story, which I am going to tell you. It goes something like this:- There was a big fortified town. It was so well armed and protected against anything or anybody that it was almost impregnable. Well, it's might and strength were soon to be tested, for it was besieged and the siege lasts a considerable time. Over and over again the besiegers were running against this wall but in vain. They couldn't do a thing. Sounds a bit like our situation, don't it?

Just a minute though. First everything went smoothly, but as days passed into weeks and weeks into months things began to take a different aspect. Food and fuel were becoming shorter and shorter, and the winter was beginning to make itself felt.

What a terrible state to be in.

That it was. It became harder to get food. The woman had to stand in long queues to get a bit of grub for their men, who had to sweat hard in their work places. Everything was becoming dearer and what you could buy was bad and the lack of good food made the people ill.

Well, I suppose the Government did everything to dish [the] grub out fairly and to ration the food so that everybody got the same amount?

Oh no, mate, that's not the case nowadays, and it wasn't the case in those dark days as I'm talking of. The only ones who were really suffering were the workers and the poor people but the ministers and the generals of that town had food enough. The granaries, warehouses and stores were full of food and fuel and within the thick walls of their fortress the ruling people felt comfortable enough.

Funny. It really does look like our situation, doesn't it?

As I was saying the people were suffering terribly. Their clothing and footwear were no longer a protection against the intense cold and not even enough bread was to be had.

But why didn't the generals try to counter-attack to relieve the town, rather than let the famine grow?

Uh! Why should they, old cock? Hadn't they enough food and fuel in their stores? It's much better to live comfortable in a warm bed than to try fighting a strong enemy. Of course, the poor people appealed to their leaders to end this terrible state by coming to terms with the enemy but they didn't pay any heed to their appeal.

Why is it that the leaders never care a damn for the poor people? Haven't they been elected to act for their welfare then?

But you know how these blokes act once they get to the top. But let me continue. Things were getting desperate for the people - an epidemic broke out.

And couldn't the people do anything about saving themselves then?

Well, hunger and cold are hard task masters and necessity knows no law. At last, a man rose up and gathered the people about him, saying: "People, we must do something about it. A counter-attack will probably make it. Why don't the generals make one? Because they are warm, comfortable and self-satisfied. So, how can we make them sit up and take notice? Well, I'll tell you - by taking away what makes them warm and self-satisfied."

Not a bad idea. And did the people jump at the chance?

They certainly did. They were so desperate that they rioted and made an assault on the warehouses and stores and plundered whatever they could get their hands on belonging to the ministers and generals.

Ay, that's more like it. And what happened next? Did the generals make a counter-attack and save the people?

No. They saved the people all right, but not by a counter-attack. When they saw that all the grub, stores and supplies had been taken away, they were too damned scared to risk their lives so they entered into peace negotiations with the enemy and thus saved their town from being destroyed.

I'm glad to hear the story ended as well as that.

Well, it didn't end quite so well as all that, you see; for the people who had forced their leaders to come to terms with the enemy, were rather badly treated by them after peace had been made. Well, it served them blooming well right. They made the mistake of waiting too long and if they had acted a bit sooner and kicked the thugs out before things began to look a bit black, they would have saved themselves a lot of trouble. But Cor blimey, our time is up. We've got to get back to work.

Well, Nobby, your story sets me thinking quite a lot and I wouldn't be a bit surprised if the same thing didn't happen to our country.

Well, mate, we'd better do a bunk back to work. You know what big-headed Bevin has got posted all over the factory about working time and gossiping. "Go to it!" he says, or you'll get your cards. So I'll see you tonight, mate, down at the publ. So long.

Well, workers, you can see by this little chat that it's up to the workers to take action themselves and now that winter is coming on things will get a damn sight worse. Don't wait until hunger and starvation cripple you. Get peace now. Strike while the iron is hot, for a workers' state is worth fighting for. It's your birth right. It's liberty and freedom that the workers are entitled to. They fought for it, bled for it and call for it. Now get it, and from the Workers' State, for peace and liberty.

Workers' Challenge will again be calling all workers of Britain and Northern Ireland on a wavelength of 213 metres tomorrow evening at ten past eight and ten past nine.
[Broadcast transcribed by www.psywar.org]